Little Blossoms' Under Two's Unit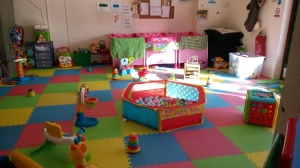 Our under two's unit is a bright and cheerful space designed with little crawlers and movers in mind.
The space provides a separate area for our youngest blossoms to safely navigate a variety of areas of learning and development whilst in the care of our friendly confidence building staff.
The room is laid out to provide access to a wide range of activities including messy play, sensory play, song time, art, stories, heuristic play and tummy time which promotes physical development when learning to roll over, crawl and sit, with levels to encourage standing and walking skills.
Children have the opportunity to independent choice play with toys at their level of reach allowing them to select and use at all times supporting their natural curiosity.
We offer friendly and inclusive learning and aim to keep close contact with our families, sharing milestones and development opportunities whilst being sensitive to each child's routine.
We provide daily information sheets and communicate with parents about their child's day with us building that special bond.
Our youngest children have access to our garden space where their learning opportunities continue and frequently take trips out to the local areas to interact with others and explore nearby wooded areas.